Tutorial:Second Steps
From Industrial-Craft-Wiki
Outdated Content: This information is outdated and does not apply to the current version of IC².
The tutorial is regularly updated, you can see the first version of it here. Whilst waiting for a corrected version, you can download the last unfinished version here: First Steps in the IndustrialCraft mod for Minecraft V0.5.pdf (texture pack used: Soartex)
Second steps
Electric Wrench
If you find your Bronze Wrenches keep wearing out, I suggest upgrading your Bronze Wrench to an Electric Wrench.
The Electric Wrench works the same way as the Bronze Wrench, but using it doesn't decrease its durability. You just need to recharge it, which is easy enough. It also used to have a Lossless Mode, which used much more EU but stopped annoying machine blocks from popping out of your hard-earned machines! (removed since machines don't break when wrenched anymore)
The Recipes and Resources page has a list of all available power tools.
Automated Mining
Now we have some machines, but don't stop mining. Pardon, mining. The Miner. It's a very good machine for lazy people. But if you want one, you must work hard.
For the mining pipe, you need 6 iron plates and a treetap:
For a working miner, you have to craft another two things: First, you need a scanner. There are two types: an OD Scanner, or a more precise, energy-eating OV Scanner.

The OD Scanner scans a 5x5 area and submits the results on the player's screen. The OV Scanner scans a 9x9 area, and also submits the results on the player's screen. Either one can be used in the miner. The second item your miner needs is a Mining Drill.
The mining drill is a useful item. It can mine stone fast, but if that speed isn't enough, you can craft a Diamond Drill. It's also a hand-held tool, not just an item for the Miner.

Put the drill and the scanner in the miner with a few mining pipes, give them energy, and go to the bed, relax, watch TV, but don't do hard jobs!
MFE Unit
Now, we have one more machine, and we can power them with solar panels. But what will we do when BatBox runs out of energy at night? We want a bigger storage unit! For that job, there is the MFE Unit. It can store 600,000 EU, as much as 15 BatBoxes!! If you can empty a fully loaded MFE Unit during a night, you are a very spendthrift player. But! It isn't cheap. You must have at least FOUR diamonds! Go to layer 1-16, and search for some diamonds. Can you find four diamonds? Are they genuine? Okay. Craft them to Energy Crystals!
Craft a machine, search for 4 cables, and craft a MFE Unit like this:
Now, we can store a lot of EU for difficult times.
NOTE: Copper cable and most machines can only handle 32EU/t, and the MFE outputs 128EU/t. You must either use a LV Transformer or Gold Cable and a Transformer upgrade.
Canning Machine
Uhh. I have got hunger. Eat a sandwich! But... Food... The Canning machine! It is a cheap, useful, and multipurpose machine. It can be used for filling Tin Cans with food, and fill Fuel Cans with biofuel or coalfuel. Craft it!
Since food comes in all shapes and sizes, some food fits in a few cans, while other foods need more than a few cans. The FOOD-TIN CAN list can be found here:Food List
Geothermal Generator
Remember that lava lake you found waaaaay back when you made your first trip in the mines? Now it's time to take advantage of it with a Geothermal Generator. Now, we will craft it! We will supply it with lava cells. To make lava cells, take a few tin.
Now, craft a Geothermal Generator. Take four glass, two cells, and a generator.
Put the battery on the top slot, and a Lava Cell or Lava Bucket in the bottom slot.
Compressor
Uhh... We have got some energy. I want to MINE, but I don't like pickaxes, and I hate tapping my toes waiting for that Miner to get everything. Time to craft something hot and shiny: the Mining Laser! But first, we need another, slightly less shiny machine: a Compressor. Smelt some Cobblestone, craft a circuit, and then a Machine Block!
Place that machine, give "him" energy, and place a Mixed Metal Ingot in it!

But that isn't a Mining Laser!
Please wait. We need that in order to make the Mining Laser!
Mining Laser
Compress 4 Advanced Alloy, craft another two energy crystals, and an Advanced Circuit.

It's very expensive!
I know! But if you want mine with style...

When will we finish that laser?


To charge the mining laser, put it in the MFE Unit. Let the laser charge for awhile, then head back to your mine. To change the firing mode, hold M and right-click. The firing modes can be found here:Mining Laser. Every firing mode has advantages and disadvantages. The default firing mode is the mining mode. It's balanced. Now, use your weapon, mine resources, because soon we will start a new chapter. Listen to a good music, chop down trees, get some cobblestone, manage your farm. Please, RELAX.
The Way to Industry
We did a lot of jobs, we have got a little house, and a few machines, BUT. Why don't we make a big house for our machines? I said, that keep in your mind a big, flat place. If it takes a lot of time, to go to your flat place, we will craft a Teleporter, or a Terraformer.
For a Teleporter, you need a lot of energy, two metal blocks, some glowstone dust, and some coal dust. For a Terraformer, you need energy, two TFBP, an advanced machine, and some glowstone dust.
Craft two carbon plates, and then compress two metal block. Make a machine, and craft them to an advanced machine!
Now make an electronic circuit, an advanced circuit, and take two redstone.
Now, craft that amazing TERRAFORMER!
Make another Tfbp, and program that!
It make a flat area with dirt ground.
It replaces sand with dirt, and place a few saplings.
It force saplings and seeds to grow faster, and causes sugar cane to grow 4-block high.
It replace dirt with sand, destroy plants and saplings, melt ice and snow. It sets forests on fire!
To put a Tfbp in a Terraformer, just hold it, and right-click in the Terraformer. To remove it, just right-click in the Terraformer with a wrench. Supply the Terraformer with energy, and after 2-3 days, it will finish the job.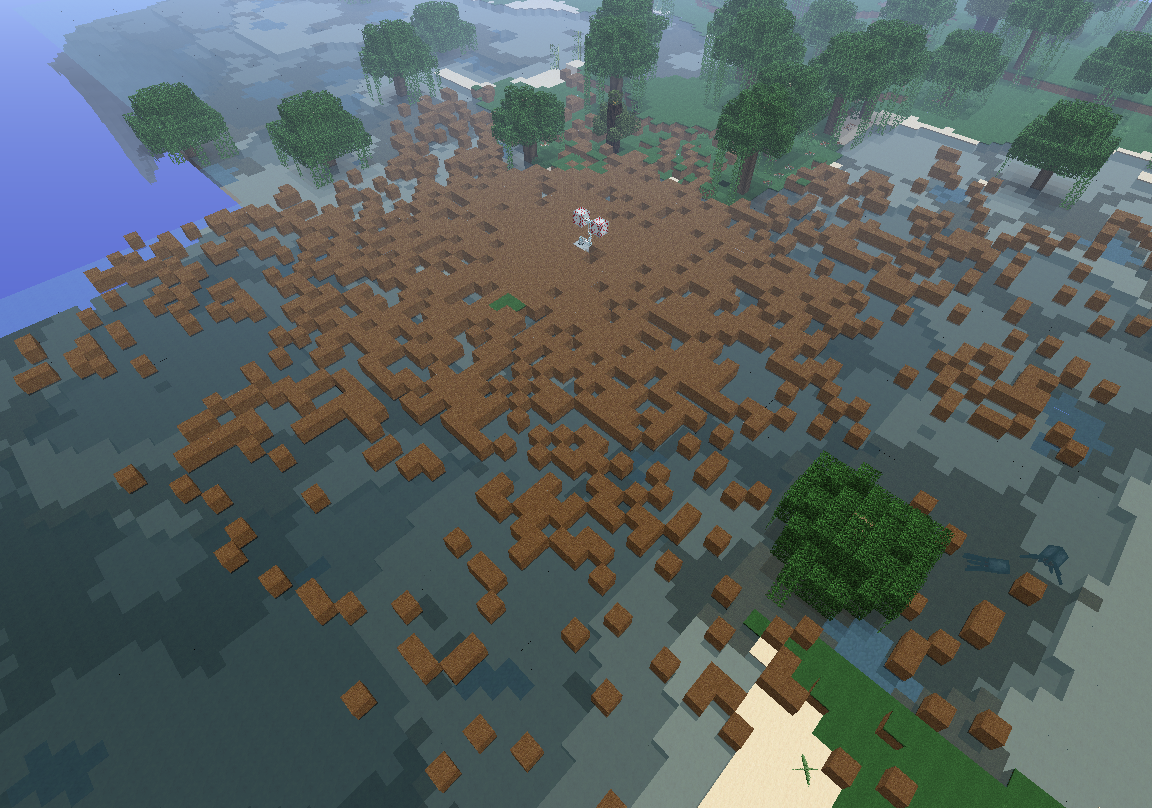 The Teleporter
The Teleporter is a VERY expensive machine that allows you to simply zap between areas without any pesky walking or riding minecarts.
First, we'll need a FreqTrans to sync our two teleporter pads.
Then, let's make our teleporter!
Right-click with the FreqTrans on one teleporter pad, then go to the next pad and right-click again. Jump on, power with a redstone button and BAM! Teleportation accomplished!
Be aware that the teleporter is EXTREMELY energy intensive, and thus depending on your energy collection system may have a substantial cooldown period while you wait around for the energy to build back up after a teleport. The teleporter must be directly connected to a MFE or MFSU, cables won't even connect.

DAWN OF THE HIGH VOLTAGE
Do you think that solar collectors or coal-based generators can't serve your purposes?
Do you get tired of waiting for that stupid sun?
Do you think that pollution isn't an important thing?
Then I think, the reactor is your best machine!
But why doesn't your neighbor have a reactor?
Because it's very expensive!

You can find out all about Nuclear Reactors in the Nuclear Power guide.
IndustrialCraft² Stuff
 

Machines

Components

Gatherers

 Miner

 •

 Advanced Miner

 •

 Pump

 •

 Mining Pipe

Generators

Processors

UU-Matter Production

Utility

Upgrades

Components

Producers

Acceptors

Components

Producers

Acceptors
 

Tools

Mundane

Powered

Transmitters

Utility

Boats