Mobile Charger
From Industrial-Craft-Wiki
Jump to navigation
Jump to search
Please note: this item has been removed in IC2.
Instead of using the Mobile Charger, you can now simply hold right click when holding a battery.
To make the personal usage of all your super-awesome tools even easier, we disabled the direct recharging procedure and invented a neat Mobile Charger!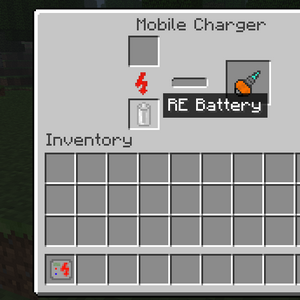 This device can connect to any electric tool yet in existence and will use the power of a RE Battery or SU Battery to charge the tool up in an instant, possibly even faster than you can say HAYO!

Yes, you could just as well charge your tools in the generators itself. But hey, who would put his Diamond Drill into a pesky coalpowered Generator anyway?!
v
·
d
·
e
IndustrialCraft² Stuff
 Machines

Components

Gatherers

 Miner

 •

 Advanced Miner

 •

 Pump

 •

 Mining Pipe

Generators

Processors

UU-Matter Production

Utility

Upgrades

Components

Producers

Acceptors

Components

Producers

Acceptors
 Tools

Mundane

Powered

Transmitters

Utility

Boats