CF Sprayer
Jump to navigation
Jump to search
With the CF Sprayer you can place/spray Construction Foam.
The CF Sprayer is a handheld tool that you can use to spray Construction Foam (CF). It can be used to build walls/buildings (using scaffolding), hide cables and create reinforced stone (using iron scaffolding).
To make a basic wall, build the wall to the desired dimensions out of Wooden Scaffolding. Switch to your loaded CF sprayer, walk up to the wall and [Right Click]. Scaffold blocks should fly everywhere and in their place should be Construction Foam.
It'll spray 13 blocks of CF, on a flat layer mostly in the following shape: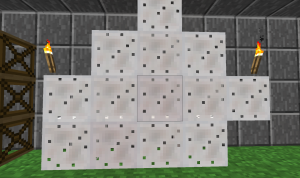 Experimental-Only Content: This information has been updated to the V2.X version of IC².
The most recent version of IC² is V2.8.222.
Refilling (IC2 v2.x)[edit]
Use CF Powder on water then use the CF Sprayer on the CF Fluid OR Use a canning machine on fluid enrich mode
Refilling (IC2 v1.x)[edit]
The CF Pellet can be placed anywhere on the crafting grid. The recipe for refilling the CF Sprayer is essentially shapeless. The more pellets you place on the crafting table, the more the CF Sprayer will be refilled.
1/8 Refill:

Full Refill:
Each pellet loaded in allows two uses of the sprayer. Usage of CFPack allow you to skip manual refilling and hold up to 129 pellets ready.
If using a CF Sprayer to spray on a Scaffold it will replace the Scaffold with construction foam. So you can use a scaffolds in combination with Construction Foam to create walls (etc.) without the need to break unnecessary, left-over construction foam.
The scaffolds are dropped if replaced by construction foam.
As of 1.70, CF will cover and harden around placed cables, allowing one to hide ugly wiring with pretty CF walls. Note that this will not otherwise affect the effect of sprayed CF.